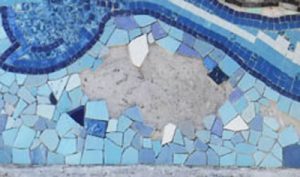 Whoa!  This morning I had the idea of putting something other than just tile in the large area under the bend in her tail.  It's a LOT of blue, and with the tail being blue already… you get the idea.
The obvious idea was a fish, but that would be hard to make with the broken beach tile.  But–Great Idea–that kind of ceramic painted wall decoration is sold all over the place here in Progreso (we are a cruise ship port after all).
It did not take a lot of shopping to come up with a set of three ceramic painted angelfish (for about US$12), so we brought those home and tried them in different positions.
The two smaller ones looked the best in the under-tail area.  They fit in there nicely and they swim in the opposite direction from La Sirena.  (Detail photo below.)
But what to do with the third and largest one?  It took about a minute to decide to replace two starfish with the third angelfish, move one starfish to the beach area and just lose the second one.  The starfish should not have been out there swimming anyway, and the new fish gives Sirena a friend she's following.  That area now looks like this:

At this moment in the midafternoon, you can see the three fish, the starfish, and a bunch of taped up tile that will finally completely enclose the area under the center of her body.  (That was actually the goal for today before all this other stuff started.)  I'll go back out there when I've got some shade again.

AND LATER THAT SAME DAY:
Blue tape is off and a lot more tile in place…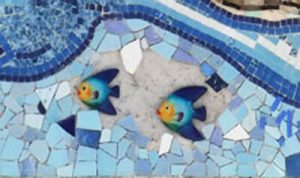 … including some right around the two small fish.  Compare this photo with that very first one at the top of the post.
---
MARCH 30–Just a couple of photos to add; not worth a whole new page…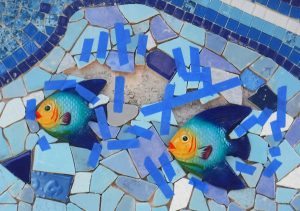 Taped up a lot more tiles along the bottom border and primarily in that under-tail area around the two fish.  Here's what that looks like now:
Not much gray concrete showing anymore!  Hope to cement all of these in tomorrow.
And now she looks like this:

You can see quite a bit more area filled in under her upper body and arm, too.
Next page: April 2–Under-tail done at last