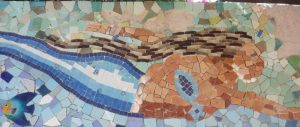 Let's start off focusing on the bulk of the work of the past several days.
It's very slow right now; a combination of working in the small curving space above her body and the lack of tiles to choose from.  Those two things mean it takes a lot of time to find an appropriate tile, a lot of clipping and grinding to make them fit, and a LOT of trips up and down the stepstool.  Still, you can see I'm very close to having the entire area above her body filled in!  And there is more done out front of her as well (see photo below).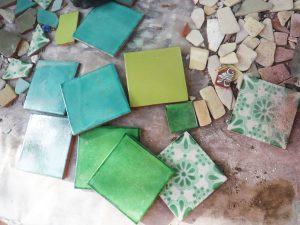 I broke down and bought some tiles at the Mexican-style tile store in Merida.  There are several colors here, and I bought one pattern that you can see in the photo.  Notice that none of these are soft pastels; Mexican tile is known for its bright colors!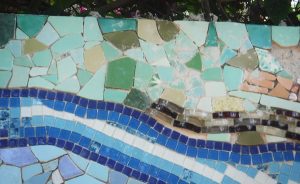 So now the question: is there so much color up there that Sirena is getting lost?  Lots of colors; lots of small tiles in a multitude of shapes.  Hopefully when it's all cleaned up and grouted it will all be fine.
Here she is as of the end of April 17.  I have at the most one more day of work before our long trip!

Next page:  4 June–We're back!