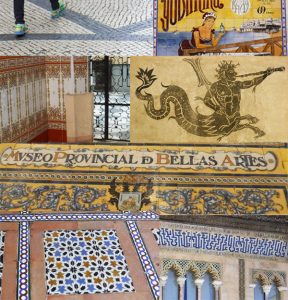 Back from five weeks in Europe, and there's some pretty inspirational tile work out there.  Portugal in particular is very well known for paving its pedestrian walks and plazas with black and white mosaic tiles, and the Andalusian cities of Cordoba and Sevilla have tile walls and decoration literally every place you look.
(Sites like the Alcazar in Seville and Alhambra in Granada have walls and walls of the stuff, created using several different 2D and 3D techniques.)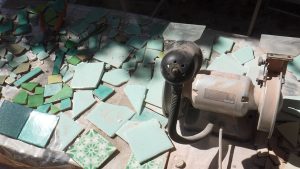 Returning home the first issue to deal with was the same one that existed in April: the lack of enough pale green tiles.  So I put a request out on our local expats Facebook group.  Unlike my try several months ago (it was blue tile that time), I got several responses!  It took a few trips out to the other beach towns, climbing around construction sites or combing piles on the playa, but I now should have more than enough to get this project finished.

Today was my first day back at work on La Sirena, and the result is here.  I've selected, cut, grinded (ground?) and taped up about 50 pieces to be cemented on the wall tomorrow morning.
And I have to be more careful.  It took less than a minute for me to slip the first time using the grinder; fortunately it barely touched my skin (this time).  And later on, I nonchalantly grabbed a just-ground tile in my ungloved hand and burned two fingers.  (I can't glove both hands; need the dexterity in my right one.)
Anyway, we're on a roll again.  We travel again in 5 weeks, and when we return it will be the rainy season, so it would be really nice to have the mermaid done.
Next page: 8 June–Lots more Green