Hard to believe…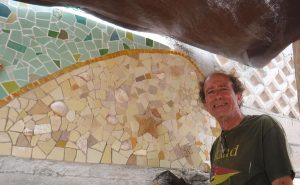 At about 1:30 this afternoon, I put up the very last tile in this project.  Sp took this photo to mark the occasion.
Compare this to my last post on 28 June; I really pushed last week to get this done.  Being so close to finishing does that to you!
(If you look closely, just above my head there is still and empty area.  But there is something special going in there; you'll see that in a day or two.)
So, now what?  It's the usual pattern: cleaning out the excess, sealing the old tiles that need it, and then grouting.  I also still have to use the grouting bag both in the sea floor area and on the rest of the mosaic.
But this is going to get done this week!
Next page: 2 July–Clean and Varnish