I think we are finally done with the rain delays!  Today was threatening but ended up just cloudy and windy; later the sun came out and it was a beautiful afternoon for working on La Sirena.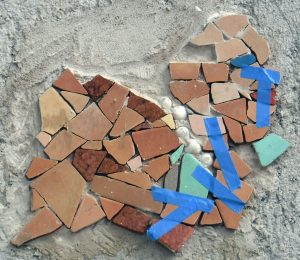 You've not seen her face yet!  In the last photo from a few days ago, the brown paper still covered her.
The blue masking tape is holdingup pieces that did not quite stick.  I went back later and used No Mas Clavos glue (in the USA this would be very similar to the stuff called Liquid Nails) to put those up more securely.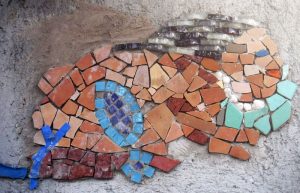 I also put up the second batch of tiles that were glued to the squares of brown paper.  I would say about 70% of them stuck, excluding all of the blue glass tiles. Fortunately, it was pretty easy to just put those in logically using the No Mas Clavos.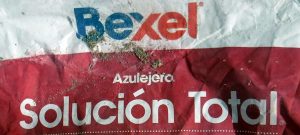 And that is how she stayed for the last couple of days, until this afternoon.  I mixed up a batch of this adhesive, which is supposed to be good for all kinds of tile, including glass.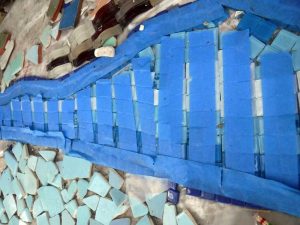 I was working fast to use this stuff.  You may remember how I had to pull all the glass tiles off the table because they had stuck to it, put waxed paper under them and stuck masking tape on top to hold them in strips.
IT WORKED.  I went strip by strip, troweling the adhesive on the wall, picking up each tape strip and pressing it into the adhesive.  I'm sorry I don't have photos of that process (will try to get some next time), but here's what we have now, at the end of the day!

Nearly the whole tail is done, although the fin may be tricky.  I added more hair as well as some blue sea tile at the left, mainly just to use up the adhesive.  (I mixed a bit too much.)
She's still disarmed; the arms will extend forward and back, behind her hair.
So, all good!  Now if I only knew if all those glass tiles are actually going to STAY UP.  Time will tell on that one.
NEXT PAGE:  February 1–The Fin