BEAUTIFUL DAY TODAY!  We're finally over all that crappy weather; this is what the snowbirds come down here to enjoy.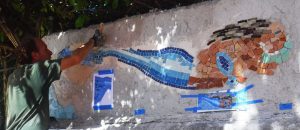 This morning was my first shot at the tailfin, by far the most complex part of the tail.  Although the top third is mostly just some more rows of tiles, the rest is a mass of curves and angled or shaped tiles.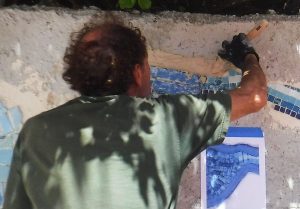 I'm not even using the big rectangular notched trowel for this; I don't know exactly where the tiles are going so I'd waste too much.  So I'm using the small one; just trying to make sure I get enough on.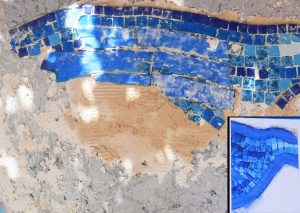 So I got this far.  It's pretty messy, and I'm going to have to start going tile-by-tile to try to get close to my original layout (a photo of that is inset here).
But I'm letting it dry well first, so I can strip off the masking tape, wipe off the excess and see what the heck I'm doing.
MID AFTERNOON: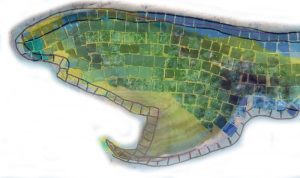 Some Photoshop time to get a better feel for how this is supposed to look.  Superimposed the tailfin from the original Website image on to the tiles already on the wall, and then drew in where the outside wall of small dark blue tiles should be.
You can see that 45-degree angle going down to the lower right; that delineates where the far side of the fin begins.  The tiles coming off that and down to the lower left will be at that angle, giving the whole thing some depth.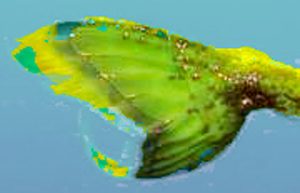 Just realized, you've never seen that original!  Here you go.
NEXT PAGE: Finishing the Fin