Not much to add the past couple of days; we're now really focused on preparation for travel, so Sirena is not getting much attention.
The big work yesterday and today was this relatively small area of green tile.  As mentioned before, it can be several trips up and down the stepstool to fit each one.  Fortunately, the cementing in goes fast.

Lots of area filled in at the left, and the top row is almost complete all the way to the air bubbles coming up from her mouth.  Nearly all of those top-row tiles are only attached to the wall part-way up, so I have been packing finger-fulls of leftover cement behind each one a day or two after mounting them.  I'm hoping that will create a solid back for them.
Here she is as of this afternoon: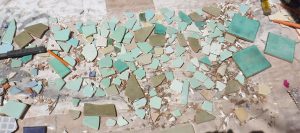 You can see all the area still to be filled in out front of her to where the beach rises.  But here on the table is ALL the green I have left.
Tomorrow we will probably head into Merida and I'll try to buy some more, hopefully in some different shades and especially in pastels.  Hope springs eternal!
Next page: 17 April–Too much distraction?